---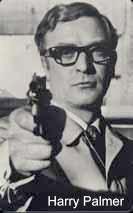 This is the (unofficial) Harry Palmer movie site. The Harry Palmer movies belong to the "serious spy movies". Len Deighton wrote the novels, but Harry Saltzman (who was also one of the the producers of James Bond) and his team created the name and movie character. "Harry Palmer is the thinking man's James Bond", they said... Michael Caine starred as the "clever Cockney", the spy who wasn't as glamorous as 007, but was certainly more realistic. The first three movies, The Ipcress File, Funeral in Berlin and Billion Dollar Brain, were stylishly made by Saltzman and his team in the Sixties. Much later, two more were made in 1995, Bullet to Beijing and Midnight in St. Petersburg.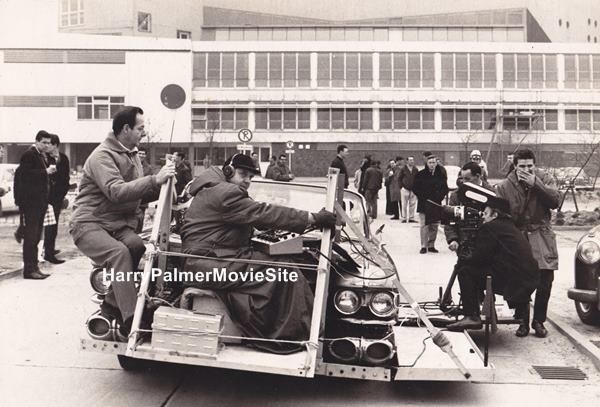 Unfortunately these films missed everything that made their predecessors so successful, except for Michael Caine, who had become older but was still a superpersonality on screen.

These pages are about Harry Palmer and everything around the short phenomenon. Check the movie pages in the menu for posters, stills, lobbycards, radiocommercials, featurettes, trailers, deleted scenes, soundtracks and a lot more. For more general information about the Harry Palmer phenomena, read this article.These pages describe as much as there is available about the movies or give links to other pages. Thanks to Terry Hine, Mark Isaacs, filmcollectief.nl, Peter Hegenbarth and Pim Bergkamp for their great contributions. In case you have material to add, please mail me.
---
new ** 11 Apr'13 Two rare behind the scenes stills of Funeral in Berlin added here.25 Jan'13 Complete Harry Palmer collection released on dvd! Click here.9 Jan'13 B$B soundtrack composer Richard Rodney Bennett's obituary added here.16 Dec'12 Funeral in Berlin stills added here and here.7 Dec '12 Midnight in St. Petersburg Japanese laserdisc and dvd cover added here.10 Nov '12 Very rare behind the scenes stills of Funeral in Berlin added here.28 Aug'12 Funeral in Berlin soundtrack rereleased on CD: click here. 17 Jun'12 7 new Funeral in Berlin stills added here.15 Jun'12 6 new Ipcress stills added here and behind the scene still here. Thanks to Peter Hegenbarth. 25 Mar'12 60ties interview added here.24 Mar'12 Rare Billion $ Brain poster added here, Ipcress BluRay cover added here, rare Anjanette Comer photo added in Trivia.11 Feb'12 Additions in 'other spy movies'! 14 Jan'12 Funeral in Berlin film locations updated! Click here. ** new



Finally! A complete collection of all five Harry Palmer movies!


Updated 25 Jan 2013

It took a while (I missed this release completely...) but in October 2012 this box was released in the UK. Of course the last two of the series aren't exactly Oscar material but who can resist the completist's box...
Rare because they combined the original dvds from Network, Paramount, MGM and Lionsgate. Four companies in one box. Not a lot of extras, Ipcress has the commentary by director and editor plus trailer, Funeral in Berlin only the trailer and the other three haven't got a single extra... For sale at all major UK dvd sellers, expect to pay around UKP 16,00 which is still a bargain! I have no affiliation with the following companies, just here to save you some time: Amazon / Play





1) Ipcress (Network) - bonus material: commentary by director and editor, trailer




2) Funeral in Berlin (Paramount) - bonus material: trailer




3) Billion Dollar Brain (MGM) - no extra




4) Bullet to Beijing (Lionsgate) - no extra




5) Midnight in St. Petersburg - no extra



Very detailed information about The Ipcress File film locations
10 Nov 2012


The most in depth report on The Ipcress File film locations. Unfortunately not on this site, I wish I had the time, but on the site of Kurt Meyer. Check out the incredible work he has done in London. And remember it was filmed 47 years ago... Check out his site:

Click here

---
MICHAEL CAINE to bring back his most famous character for one last mission?
14 September 2009
WENN:
The veteran actor played Cold War spy Harry Palmer in three movies in the 1960s - The Ipcress File, Funeral In Berlin and Billion Dollar Brain. Now he wants to drag the cockney hero out of retirement for a new movie. He said: "I have a script called Cold War Requiem, which is Harry retired and he's living out his fantasy in some middle class area in London and the guys who he screwed have now got rich and they've decided to come and kill him. "I would like to get that done but we haven't got that financed yet."

Canadian Press:
"There's a script which I like very much, which is called 'Cold War Requiem,"' said Caine, adding that Susan Sarandon was interested in playing his wife in the film.
"It's about an old spy from the '60s in the Cold War, who's now retired - just like me, an old guy. And his enemies come back to kill him because of what he did in those days. ... It's a very good thriller. it might get done, it might not."
All just gossip or...? Read the WENN article
---
Visit the
Harry Palmer Movie Site Message Board
---
Made by Kees Stam Start: 1 April 1999 Last update: 11 April 2013