---

By Len P. Feldman
Apr. 3, 1997—He shot to stardom as a bespectacled, working-class James Bond in the '60s spy film The Ipcress File. After closing The Ipcress File (1965), attending a Funeral in Berlin (1966) and outsmarting the Billion Dollar Brain (1967), author Len Deighton's underpaid upstart of a spy retired from the big screen.
But the recent success of movies like Mission Impossible and the James Bond film GoldenEye have ushered in a spy-film resurgence that wouldn't be complete without the return of one of cinema's most convincing and memorable spies—Harry Palmer.
With the Cold War over, the popular theme for spy flicks these days is that of ex-spies selling their deadly skills to the highest bidder. The villain in GoldenEye, for example, was an ex-British Secret Service agent. " [Palmer's] trying to make a new life for himself as a freelance agent, having been fired from MI-5," says Caine of his onscreen alter ego. "Because he's getting up there a bit now. They only want young guys."
The plot of Bullet to Beijing has Harry Palmer lured to Russia to work for a local mafioso involved in genetic-weapons research. The crime czar is ostensibly trying to recover the deadliest genetic weapon known to man which was stolen by the North Korean government. Along the way, Harry meets some old friends who tried to kill him in the good old days. "We thought it would be interesting to bring him back to Russia after the Wall was down and perestroika, and having him working with his old enemies," says Caine, who, like Palmer, had trouble conceiving of a world without a Berlin Wall. "I personally never thought that I would see the Berlin Wall come down in my lifetime," he says, "And I'd have bet you everything a year before it did, that it wouldn't."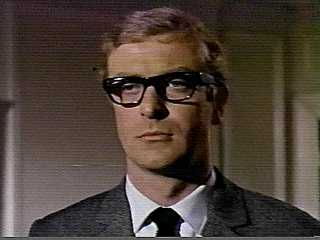 Though Harry Palmer has become one of the most famous of fictional secret agents, his creator, Len Deighton, didn't name him when he wrote his spy novel, The Ipcress File. "The problem with it was that he wrote it in the first person so Harry had no name…" recalls Caine. So Ipcress File producer Harry Saltzman, who also co-produced the James Bond films at the time, and Caine set out to find an innocuous name for their bureaucratically battered secret agent. "I made a rather bad social blunder, because he said, 'What's the dullest name you can think of?' And I said, 'Harry.' And he said, 'Thanks very much.' And then he said 'What's a dull surname?' And…the most boring boy in our school was called Palmer, Tommy Palmer. So he said, 'All right, we'll call him Harry Palmer.'"
Harry Palmer was a gritty, down-to-earth alternative to the super-spy image of the '60s. And, although the Bond craze was in full swing when the Ipcress File premiered, audiences found Palmer appealing.
"I don't know," reflects Caine, "Maybe because Harry represents us, all of us. He's not like some giant superman…like James Bond. What he was, was a government guy who went out into danger where we would never dare to go. But he was ordinary, like us, and also seemed like a loser, but he wins. So I think when you're in the audience, you do identify with him tremendously, which makes for great suspense, because you're worried about what's going to happen to him."
Before the tremendous success of the Ipcress File, Caine had no false hopes of becoming a movie star: "I was in an amateur dramatic society and I loved doing it. I mean, I didn't do it for the money or to become a movie star or anything. I just did it so I wouldn't have to work in a factory."
When the positive reviews for the Ipcress File came pouring in, Caine knew he had made it as an actor. Having his name appear above the title of the film gave the unknown Caine star status. He recalls: "After the film was finished, the producer, Harry Saltzman, said to me, 'I've decided to put your name above the title anyway, even though it's not in your contract.' So I said, 'Oh thank you Harry. Was it that good?' He said, "No…if I don't think you're a star, nobody else will."
The '60s was a fortuitous and exciting time for Caine. "The most extraordinary thing about the '60s was every unknown person that I knew in many, many fields, became famous.… I knew a painter and it was David Hockney. I shared a flat with Terrence Stamp. What's the chance of two actors in one flat becoming movie stars, for Christ's sake?"
Caine also enjoyed the sexual revolution that the '60s ushered in." All the girls burned their bras, so I said, 'that's a start, anyway.' And there was none of the things like now, like AIDS and things like that. I mean nobody worried about things like that. We were very promiscuous. And it was just the right time for me…I was 29."
Aside from the return of Harry Palmer, Bullet is a unique spy film in that it teams Caine with Jason Connery, the handsome son of Sean Connery who created the role of James Bond for the screen. And while the '60s may have been Caine's heyday, the '90s, according to Caine, is Jason's decade to shine. "I saw his effect on the ladies. I mean...they go like jelly when he's around. He's a great looking guy,…an extremely good actor. Extremely serious, but I never knew he was funny because he was always with me and his father…and when he's with his father, he shuts up."
As with all his films, Caine refused to view the daily rushes of Bullet during filming: "I think rushes were yesterday, and…if you worry about yesterday, then you screw up today.… Also, I'm not particularly keen on looking at myself, unlike the image most people have of actors…always looking for a mirror. I avoid mirrors at all costs."
How does Caine differ from his Harry Palmer persona? "Well, in most ways, really. I'm a family man, I'm not lonely, I'm not poor, I'm not subservient to the bosses. I am the boss. Harry's very simple and nice. I'm arrogant and not very nice.
"But there's a lot of me in Harry too," adds Caine. "…The poor background, and always when I was younger (I was) railing against authority…. You know, he has a strong streak of anarchy in him, which I do and which I put in there. He also wears glasses and likes ladies. I like ladies too." (Caine, 64, has been married to his wife Shakira Caine, a former Miss Guyana finalist, since 1973.)
Another thing Caine has in common with Harry Palmer is his outlook on life, which is a lot like a secret agent who doesn't know which day will be his last: "Yeah, I kind of enjoy life. Both my wife and I have this philosophy that we'll worry about next week when it comes, let's get today together, you know? Because you are a long time dead."
Photo of Michael Caine courtesy of Piroskam/Showtime