---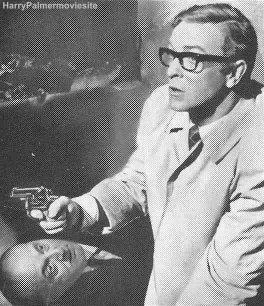 General
---

Michael Caine had originally signed a five-picture-deal (7 years). After Billion Dollar Brain he didn't want to return anymore as Harry Palmer. Harry Saltzman, the producer, had already let Caine out of the contract.

The next film after Billion Dollar Brain should have been 'Horse Under Water'.

Christopher Plummer was originally considered for the lead role in The Ipcress File but dropped out to star in The Sound of Music(1965) (IMDB)

Palmer is the first action hero to wear glasses (Caine is myopic in real life). (IMDB)

Though Harry Palmer has become one of the most famous of fictional secret agents, his creator, Len Deighton, didn't name him when he wrote his spy novel, The Ipcress File. "The problem with it was that he wrote it in the first person so Harry had no name…" recalls Caine. So Ipcress File producer Harry Saltzman, who also co-produced the James Bond films at the time, and Caine set out to find an innocuous name for their bureaucratically battered secret agent. "I made a rather bad social blunder,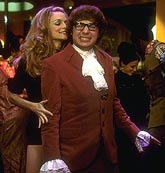 because he said, 'What's the dullest name you can think of?' And I said, 'Harry.' And he said, 'Thanks very much.' And then he said 'What's a dull surname?' And…the most boring boy in our school was called Palmer, Tommy Palmer. So he said, 'All right, we'll call him Harry Palmer." (From an article by Len P. Feldman - read the whole interview click here )

Mike Myers, the actor and creator of Austin Powers, thought of Harry Palmer when he gave Austin his glasses.(see pic)

WENN reports:
"MICHAEL CAINE wants to bring back his most famous character for one last mission."
14 September 2009

The veteran actor played Cold War spy Harry Palmer in three movies in the 1960s - The Ipcress File, Funeral In Berlin and Billion Dollar Brain. Now he wants to drag the cockney hero out of retirement for a new movie. He said: "I have a script called Cold War Requiem, which is Harry retired and he's living out his fantasy in some middle class area in London and the guys who he screwed have now got rich and they've decided to come and kill him. "I would like to get that done but we haven't got that financed yet."
Just gossip or?
Read the original article

MTV.com reports:

"Michael Caine Thinks Jude Law Should Be The Next Harry Palmer"
8 April 2009
"I'm too decrepid to play [Harry Palmer]," Caine told MTV News. "I could play an old villain. I might sit there with a Siamese cat or something. "As an alternative, Caine suggested a more youthful actor who was mentioned as a contender to follow Pierce Brosnan as James Bond.

"Jude Law can play Harry Palmer as long as he's got the glasses," the Oscar-winning actor said. As for which novel he would pick to jump-start the franchise's revival, he has a his eye on a candidate there as well."Len [Deighton] wrote a fabulous book and I loved the title," Caine explained. "It was called 'An Expensive Place to Die.'" The 1967 title takes place in Paris, grabbing its title from an Oscar Wilde quotation.

Caine first appeared as Harry Palmer in the 1965 film "The Ipcress File" and most recently reprised his role in 1996's "Midnight in Saint Petersburg. So is Harry Palmer suited to reappear in 2009? Caine thinks the timing would be perfect. "Yes," he offered, "because they're reinventing the Cold War anyway."

source: MTV.com link:click here (Thanks to Rob Mallows http://www.deightondossier.net/)
---

The story about Harry's glasses / frames
First of all: they were dark brown in colour - contrary to the widely held view that they were black.
There are two versions of the story about the origin of the glasses:
A ) Some say this is the origin:They are a style called "Teviot 74" manufactured by a company called 'UK Optical'. These were an absolutely basic,standard model issued free of charge on the National Health Service in Britain at that time. Apparently they weren't issued free on the NHS but became popular at the time for being a stylish though inexpensive alternative to those issued free and were easily fitted with NHS lenses.That UK Optical range have been described by some as the first affordable 'designer' frames available in the UK.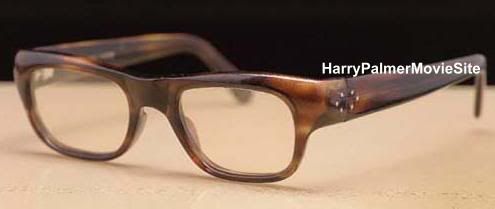 B ) But according to a film auction seller in England this was the origin:
A pair of spectacles by Curry & Paxton, Ltd of London, with prescription lenses and imitation tortoiseshell frames, one arm marked inside YVAN -- supplied to Michael Caine as Harry Palmer in The Ipcress File, 1965; Funeral In Berlin, 1966; and Billion Dollar Brain, 1967; with original card box labelled inside CURRY & PAXTON, LTD., Dispensing Opticians...London, the lid of the box inscribed variously in ballpoint pen Michael Caines glasses "IPCRESS FILE" "FINALE [sic] IN BERLIN", Alice, General office Ross's, 2 Pairs Glasses M.. [remainder of inscription indistinct] and MICHAEL CAINE'S GLASSES; accompanied by two black and white stills, one from Funeral In Berlin, the other from Billion Dollar Brain, both -- 8x0in. (20.3x25.4cm.) (4) (see photo above)
The vendor, who was the production accountant on Billion Dollar Brain, purchased these glasses post-production and recalls that they were kept in the safe of the Pinewood Prop Stores. Although more than one pair of glasses may have been supplied for the films, the fact that they were kept in the prop store safe indicates that they were those worn by Michael Caine, and the numerous inscriptions on the box indicates useage in all three films.
(Thanks to Mark Isaacs)
---

It's interesting to note that author Len Deighton wore an identical pair at this time (refer to the classic on set photo of him and Caine in Harry's kitchen preparing for the "egg cracking" shot" see this photo here).These glasses have been long out of production and the nearest modern equivalent available today is a style called "Grant" by 'Oliver Peoples'. (Thanks to Mark Isaacs)

Harry's three-quarter length raincoat has long been a style icon in Britain. Harry wears a different raincoat in each of the three films. The "Ipcress" one is of a check (or plaid) similar to a style referred to as 'Prince of Wales'. The "Funeral in Berlin" and "Billion Dollar Brain" ones are very similar in style but appear to be of a slightly different shade of beige to one another. A London based vintage clothing expert is sure that the coats came from top British outfitters "Aquascutum". The "FIB" one was definately from "Aquascutum". (Thanks to Mark Isaacs)

Bob Engesser added this on the messageboard, interesting enough to add here: "I recall a press release from the late 1960s stating that Harry Saltzman would produce Horse Under Water with Nigel Davenport and not Michael Caine as Harry Palmer. Poor box office from Billion Dollar Brain the movie and not poor sales from Horse Underwater the book probably killed this project. Davenport costarred with Caine in the underrated war film Play Dirty which was produced by Saltzman."

For a collection of deleted scenes: click here

Harry Palmer style is still hot, check out these articles! Click here (Thanks to Andrew Stanhope)
Great stuff about Len Deighton and Harry Palmer on the Deighton Dossier website!
Rob Mallows excellent site on Len Deighton contains great stuff about the author and everything around him. Check it out regularly. Below some additions which are of interest for Harry Palmer fans...
The following is taken from his site:
1) In March 2011, Len Deighton kindly agreed to grant the Deighton Dossier an exclusive interview in a question & answer format. The questions included some suggested by readers of this website and the accompanying blog. Together, this forms Len's first 'interview' for nearly three years, so is somewhat of an exclusive. Deighton also talks about the Palmer films, Horse under Water and the role of Michael Caine: Go to Deighton Dossier website or download the .pdf of the interview here!
2) Eat Soup was a short lived supplement to original UK 'lad's mag' Loaded, when it was a serious-enough magazine and had yet to turn into a parody of itself. In November 1996 the magazine secured an exclusive interview with Michael Caine. The piece inter-twined a look back at his iconic movie characters with Caine's status as a restaurateur and lover of fine food.Inevitably, part of the discussion focuses on his Harry Palmer role and the character's status as a metaphor for the shift in thinking by men about food in the 'sixties, something which Len Deighton anticipated and preciptated with his Action Cook Book. To wit, at the end of this article is a feature by Len explaining how he turned Harry Palmer into an on-screen gourmet. Eat Soup interview
3) Russian spies used to study Michael Caine's movies and marvel at the cleverness of his characters.The British actor was flattered when he learned Russian leader Vladimir Putin used to watch his Harry Palmer films in the late 1960s with his comrades. Russian spies studied-Caine-Harry-Palmer
4 ) A song featuring Harry Palmer and the Berlin Wall has been voted 2 in the top 10 list of Canadian Synth Pop tracks: Rational Youth, "Dancing on the Berlin Wall" (1982)
References to the atom bomb and Len Deighton's fictional spy Harry Palmer make this a synth-pop meditation on the Cold War
---
The Ipcress File
---

Three pairs of glasses were used by Michael Caine during The Ipcress File. When all of these were broken during filming, production was held up for a day, until replacements had been found. After that, the prop department was stocked with 20 extra pair of the Harry Palmer model glasses.

Two large Victorian terrace houses, at 28 and 30 Grosvenor Gardens, London (almost adjoining Victoria Station in London, see also Filmlocations), were used as filmstudios for The Ipcress File. The two houses were converted into one huge house containing 40 rooms. These were enlarged or divided according to requirements. Fourteen room were used as studios. Other rooms were turned into dressing rooms, wardrobe department, hairdressing, make-up, production offices, a property department and a self-contained restaurant capable of feeding and seating 120 people! This all was kept secret to keep away sight-seers and autograph hunters. Even Michael Caine was driven to work in an inconspicuous car and had to sneak in the back way. As a 'front' for the real purpose, a large sign was painted at the entrance to the film studios. The sign read:" The Dalby Employment agency".

Sidney J. Furie (director The Ipcress File) was fired directly after shooting The Ipcress File. He and Harry Saltzman (producer) had fierce arguments about what the film should look like. Harry Saltzman couldn't come to terms with the 'strange camera angles' Sidney J. Furie used in the film. Peter Hunt had to do the editing without the director.

On the first day of shooting The Ipcress File (at Pinewood Studios, London) Sidney J. Furie, director, gathered the cast and set fire to the script. "That's what I think of it", he said in front of a stunned audience. Later, the cast was asked to write their own dialogue !

Len Deighton, author of the Harry Palmer books (although the name Harry Palmer is never mentioned in the books), is also a very good good cook. Besides writing novels Len also had a cookery comic strip in The Observer. These cookery strips can be seen in The Ipcress File. The walls of the kitchen of Harry Palmer are full of these strips.

In The Ipcress File Harry Palmer makes an omelette and breaks two eggs at the same time, with one hand ! Michael Caine couldn't perform this trick. The hands you see, breaking the eggs simultaneously, are Len Deighton's (who was an experienced cook) ! You can see the difference by watching the hands. Michael Caine has blond hairs on his hands and Len Deighton has black hairs, which are seen during a this shot.

Have a look a this promotional contest, especially made for newspapers: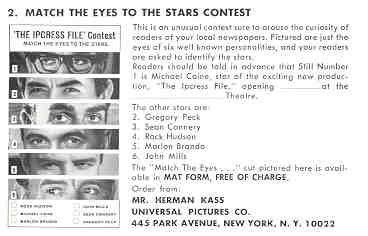 In a 1995 interview Caine told Deighton that wearing glasses in "The Ipcress File"(against the express wishes of Harry Saltzman) meant that he could see clearly on set for the first time in his career. Interestingly though, in a 1967 interview Caine explains that Harry's glasses are made of ordinary glass as real lenses reflect the studio lights too much!! You can certainly notice quite a bit of light reflecting on Harry's glasses in "Ipcress", particularly in Harry's office scenes with Ross and Dalby. (Thanks to Mark Isaacs)

Harry Palmer makes coffee in a special coffee pot in the beginning of the movie. Charles Kasher, executive producer, had a special deal with the manufacturers to promote the thing. See below for the very rare promotional still and the ad.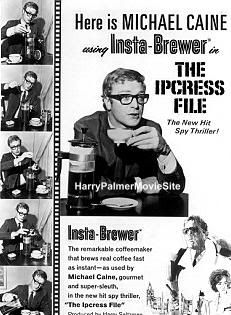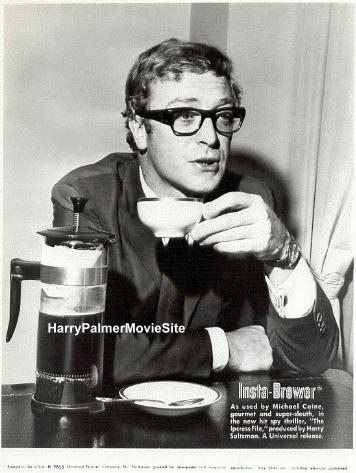 Joan Collins (she became famous in Dynasty) had been considered for the role of Jean.

In the scene in the parking garage where the money is counted by one of Bluejays' men, you can see the money counted very fast. The filmmakers hired a professional bankteller to do this scene.

Sidney J. Furie used large quantities of Scotch in his coffee whilst making the film. He said that "a lot of scenes have benefitted from it...".

When The Ipcress File was shown at the famous filmfestival in Cannes, Sidney J. Furie was banned from the festival by Harry Saltzman.

18 year old Rita Davies, a girl from London, wanted Michael Caine's autograph and asked for it during the filming at Grosvenor Gardens. Instead she was offered a screentest for a role as secretary. She was only interested in the autograph and she turned down the offer.

Cartoon from a newspaper.(thanks to Mark Isaacs)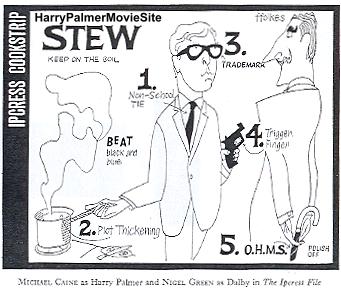 Michael Caine (as Harry Palmer, reluctant spy) plays with a Minox B that he's handed by his old British Military Intelligence boss, who asks him to microfilm the Ipcress file behind his new boss's back. Notice Caine's finger is planted neatly in front of the lens. Charlie Trentleman says there's no scene like this in the original book. (Found on site made by Marcus Brooks)
---
Funeral in Berlin
---

Eva Renzi was not scheduled to play in Funeral In Berlin. The part of Samantha Steel had been assigned to Anjanette Comer (IMBD info), but due to illness she couldn't continue. Some scenes have been shot apparently with Anjanette. The first photo is taken in London; according to the text (see below) the scriptwriters were still doubting whether or not to kill Samantha....See these very rare publicity stills.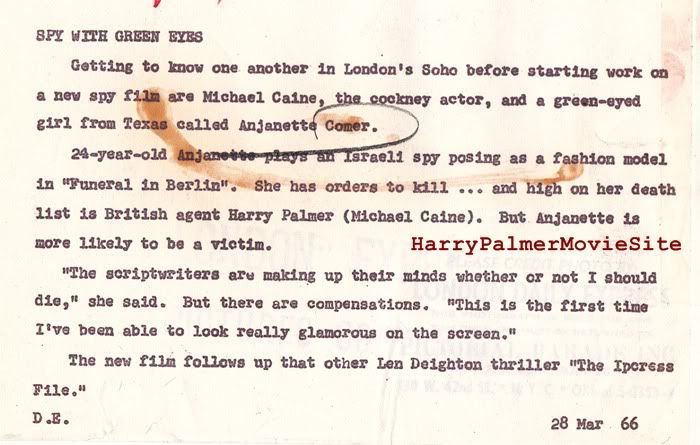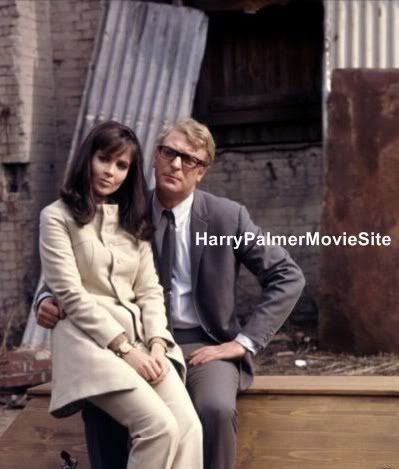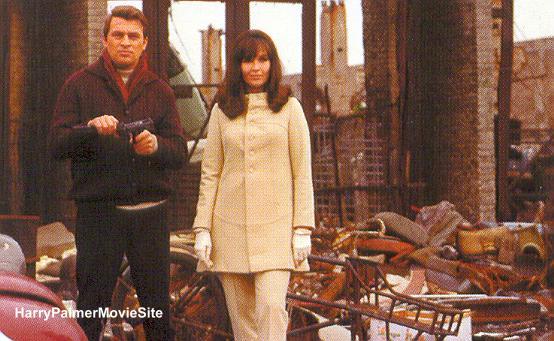 Russian soldiers on the east side of the Berlin wall "flashed" the camera's with the sunlight using mirrors, while the crew was shooting Funeral in Berlin. The scene where Harry Palmer walks to Checkpoint Charlie (the longshot) for the first time had to be taken from a big distance for that reason.

Special art for papers: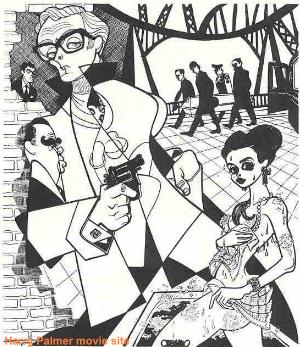 This was on the messageboard, interesting enough to add here: Paramount messed up on their "Funeral In Berlin" DVD release by using a "textless" print of the film's trailer. Much of the trailer deals with the superimposed names of the actors and title, as well as an epilogue of text that fills the remaining thirty seconds or so. You'll see the difference in the Spyguise video that features "Berlin's" trailer, as well as a secondary review trailer. Paramount has shown a considerable lack of care, just like those MGM Bond DVDs that don't feature the necessary subtitles. (Thanks to Alan Spencer)

Morten Sagen added this on the messageboard: I recently watched Funeral in Berlin on Norwegian TV2. I noticed that the title sequence was different from my American edition VHS. On the American version the actual lettering is white, while the ones on TV where black with narrow white borders around each letter. It was also in widescreen. Anyone out there who knows why they made two versions?

Special envelope to promote the bookversion of Funeral in Berlin: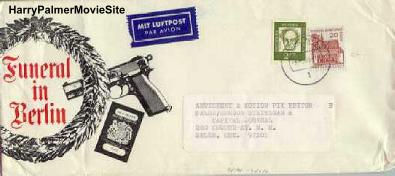 Promotional matches, handed out on airplanes, see right

---
Billion Dollar Brain
---

Stanley Caine, Michael's kid brother, made his screen debut in Billion Dollar Brain (although he had appeared on British television) as the G.P.O. delivery boy.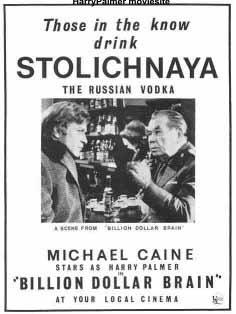 Ken Russell was contractually obligated to direct Billion Dollar Brain. He didn't like to do it, but 'it was shoved down his throat'.

Francoise Dorleac, Anya in Billion Dollar Brain, died in a road accident in the same year that Billion Dollar Brain was released. Director Russell called her a classic screen beauty "like Marlene Dietrich".

Michael Caine performed most of his own stunts. During the final ice floe scene in Billion Dollar Brain, he almost slipped and fell into freezing water.(IMDB)

Len Deighton received $ 250,000 for the filmrights of Billion Dollar Brain. Harry Saltzman, the producer, wanted to pay $ 100,000, and was very angry about Deighton's price. He slammed down the receiver when he heard Len Deighton's demands. Eventually Saltzman called back to say he agreed. Len Deighton's comment:" I like the sound of 'quarter million'...".

A special tie-in ad for Billion Dollar Brain (see pic)

When Palmer comes out of the woods and catches the Latvian train, "VR" can be seen on the sides of the cars. VR stands for State Railways in Finnish and is an obvious sign that the scene was filmed in Finland. (Thanks to Toni from Finland)

31 seconds of the original movie are missing on the official MGM release of 2004. The licensing rights of the Beatles song "A hard day's night" (which can be heard in the scene where Harry meets Basil) were said to be too expensive so they cut the whole scene...
Andrew S. added: "Actually The Beatles themselves (or more accurately Apple Records) who actually made the use of that song in the film too expensive. Apple (The Beatles company) still owns the rights to their recordings, while Michael Jackson owns the publishing rights. So if you wanted to use a recording of The Beatles, you would have to get their permission (and of course Michael Jackson would get a slice of the money). However if you just wanted to use a Beatles song but have somebody else record it, then you would only need to get permission from Michael Jackson's company. This is what happened in that Sean Penn film "I Am Sam". The producers wanted to use actual Beatle recordings, and I believe that Ringo, Paul and Yoko had all agreed, but they were waiting on George's agreement. But at the time he was very ill with cancer so they never actually got his go-ahead. So as a result, they couldn't use Beatle recordings so they just licenced a number of Beatle songs and got other people to record them.

Julien Comelli from France reports: the French version of Billion Dollar Brain contains a very little segment who is not in the original French exploitation copy: the last word of Harry Palmer (200£ is allright..), who has been, for the dvd, dubbed today by another actor.

See below: promotional slide for Billion Dollar Brain, probably used as advertisement before other movies.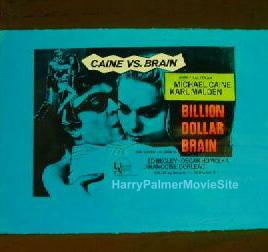 Director Ken Russell has recently started writing a weekly article for the (London) Times newspaper in which he recalls his life in the movie business. This week the theme was his many battles with the British Board of Film Censors. About 'Billion Dollar Brain' he writes:
"With my next movie it was the camera operator who put me in jeopardy. There was a rough-and-tumble between the hero Michael Caine and the beautiful spy Francoise Dorleac. I couldn't use stunt doubles as a lot of the fight was in close-up. Neither could Caine really lay into his leading lady, so it was the camera that did the roughing up, with the operator hand-holding it at all angles as he followed the sparring couple all over the bedroom. This the censor found too violent by proxy, and the scene was cut heavily." (Thanks to Mark Isaacs)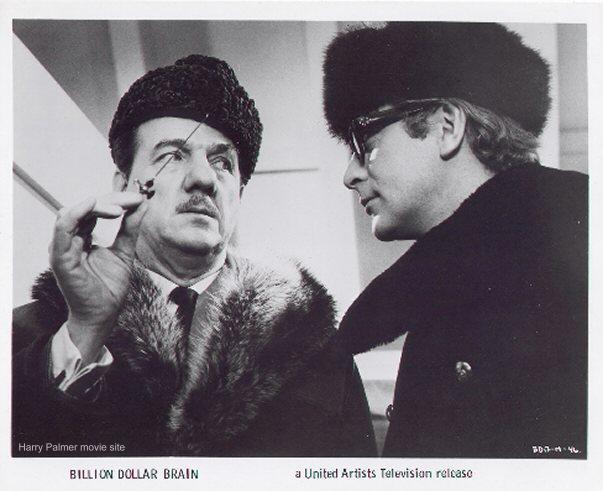 Karl Malden, the Academy Award-winning actor died Wednesday 1 July 2009. He was 97.He played the part of Leo Newbegin in Billion Dollar Brain.

Malden died of natural causes surrounded by his family at his Brentwood home, they told the Academy of Motion Picture Arts & Sciences. He served as the academy's president from 1989-92.



While filming Billion Dollar Brain (1968) at Pinewood Studies with Michael Caine, Malden's London hotel room was burgled and his cash stolen, but his travellers' cheques were left untouched. The incident persuaded him to become the face of American Express travellers' cheques a few years later for a long-running series of commercials with the punchline "Don't leave home without them".
---
Bullet to Beijing
---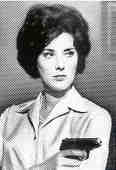 Sue Lloyd returns in her role as Jean after 30 years in Bullet to Beijing (1995). She had played this role in The Ipcress File as well. In Bullet To Beijing Harry Palmer refers to the good old days and they have a nice little rendez-vous. This last scene is NOT in the shorter version of Bullet To Beijing. (see pic)

In Bullet To Beijing there is nice scene in the train to Beijing where Nicolai (Jason Connery) tells about the profession of his father. He tells his father worked for British Intelligence... As Jason's real father, Sean Connery, became famous as James Bond 007, this must have been some sort of incrowd joke ??!?

Mia Sara, leading lady (Natasha) in Bullet To Beijing, is married in real life to Jason Connery, her co-star in the movie. They live with their baby in the Borders of Scotland.

Bullet to Beijing was released under the name "Beijing Express" in French Canada.

While shooting in Moscow and St.Petersburg, crew members were repeatedly targeted by logal thugs and Michael Caine received death threats from Russian ganglords.
---
Midnight in St.Petersburg
---

Insiders say that Midnight in St. Petersburg was made almost entirely from out-takes on the cheap and completed in 6 weeks.

Tanya Jackson, Tatania in the movie, is the wife of the director (...) of Midnight in St.Petersburg, Doug Jackson.