---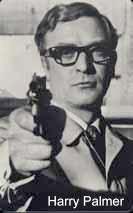 This is the (unofficial) Harry Palmer movie site. The Harry Palmer movies belong to the "serious spy movies". Len Deighton wrote the novels, but Harry Saltzman (who was also one of the the producers of James Bond) and his team created the name and movie character. "Harry Palmer is the thinking man's James Bond", they said... Michael Caine starred as the "clever Cockney", the spy who wasn't as glamorous as 007, but was certainly more realistic. The first three movies, The Ipcress File, Funeral in Berlin and Billion Dollar Brain, were stylishly made by Saltzman and his team in the Sixties. Much later, two more were made in 1995, Bullet to Beijing and Midnight in St. Petersburg.
Unfortunately these films missed everything that made their predecessors so successful, except for Michael Caine, who had become older but was still a superpersonality on screen.

These pages are about Harry Palmer and everything around the short phenomenon. Check the movie pages in the menu for posters, stills, lobbycards, radiocommercials, featurettes, trailers, deleted scenes, soundtracks and a lot more. For more general information about the Harry Palmer phenomena, read this article.These pages describe as much as there is available about the movies or give links to other pages. Thanks to Terry Hine, Mark Isaacs, filmcollectief.nl, Peter Hegenbarth and Pim Bergkamp for their great contributions. In case you have material to add, please mail me.
---
new ** 9 March '22 A remake of The Ipcress File was released on ITV (UK) 6 Mar'16 Two Bullet to Beijing promocards and Argentina videocover added here.2 Mar'16 9 rare Italian Ipcress 'photobustas' added here.22 Feb'22 Ipcress dvd and videocovers added here and here. 21 Feb'16 Funeral in Berlin, House of Ross location found! Click here! ** new

A remake of The Ipcress File was released 6 March 2022 on ITV!




In the ITV and AMC+ adaptation of The Ipcress File, Joe Cole (star of Peaky Blinders and Gangs of London) takes on the iconic role of Harry Palmer, based on the globally renowned Len Deighton novel from 1962 and made famous by Michael Caine in the 1965 spy thriller. Filming took place in Liverpool, Cheshire and Croatia in 2021 and it's set to air in 2022. Tom Hollander, Lucy Boynton and Ashley Thomas also star.

The high-octane espionage series, set during the 1960s at the height of the Cold War, follows Palmer, a working-class British sergeant, who's on the make in Berlin and ends up becoming a spy to avoid a stint in military jail for dodgy dealings and side hustles.

Harry Palmer's first case is The Ipcress File, which involves a missing British nuclear scientist. But Palmer's links to the man suspected of the kidnap takes him on a potentially deadly undercover global mission from Berlin, to London, Beirut and a nuclear atoll in the Pacific. But can Palmer survive brainwashing, inter-departmental rivalry, treason and a series of dangerous twists and turns?


(source: whattowatch.com)









---
Visit the
Harry Palmer Movie Site Message Board
---
Made by Kees Stam Start: 1 April 1999 Last update: 6 March 2022