---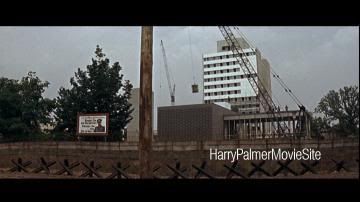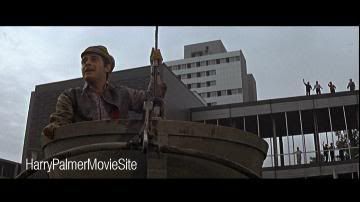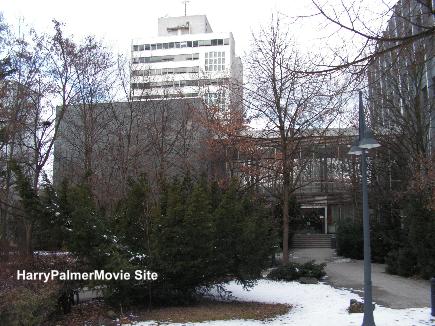 The openingscene where the musician flees to West Berlin with the help of Kreutzman was filmed between Einsteinufer and the Marchstrasse. It is now the campus-area of the Technische Universitat of Berlin. The white building in the back is the Heinrich Hertz Institut (Einsteinufer 25) and the building in front is the Werner von Siemens Bau (Einsteinufer 37). I think they also used this area for the final scene where Kreutzmann is shot by the Israeli secret service. There is nothing left of the old buildings surrounding this site, only the Campus Cafe.

Google Earth

Latitude: 52°30'54.89"N

Longitude: 13°19'31.48"E
---
new
Location of the house of Ross found! I'll give you the explanation as Geoff Dodd has mailed it to me:
As Palmer gets off the bus we can see a wall at an angle to the road on the pavement to the right: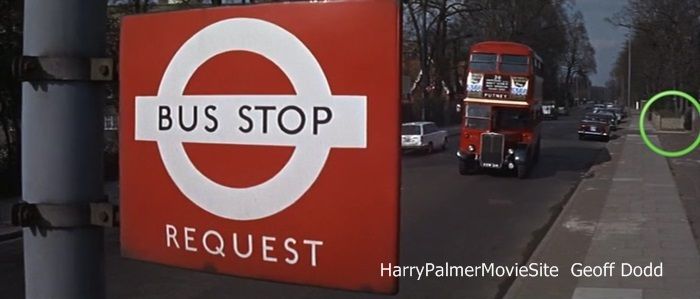 This is the wall now, although it's partially obscured by a new road sign: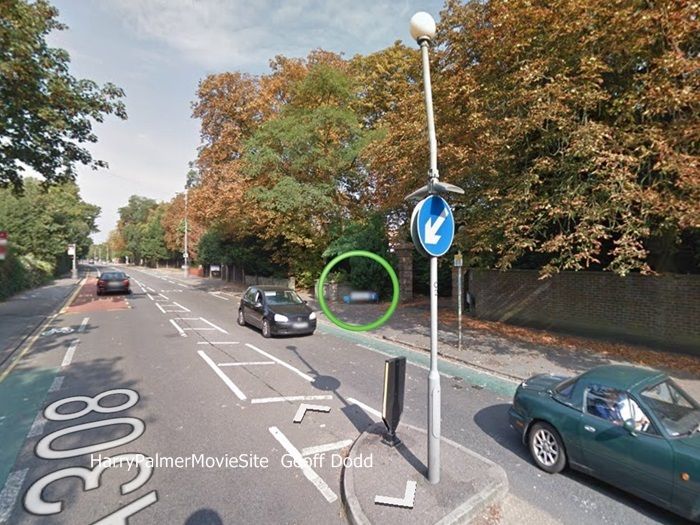 Here the exact spot where Harry getss off the bus:
We also see Palmer standing next to one of the cars on the driveway with a house visible in the background with a distinctive gable: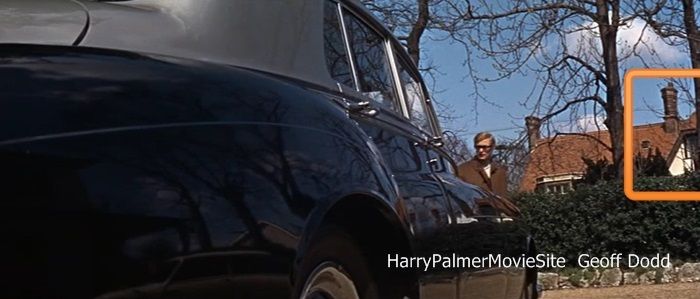 Now this house has been altered considerably but thankfully the gable is still intact and can just about be seen to the right of this aerial shot. The long driveway in the centre is the one leading to the house:
Due to a trick with the editing it appears as though the house is very close to the gate when in fact there is quite a long driveway before you get to it. As Palmer approaches the house we see this:
As you can see, it has a distinctive roof line and chimney to the right and skylights and windows on the left aspect. These can be seen in the aerial shot here: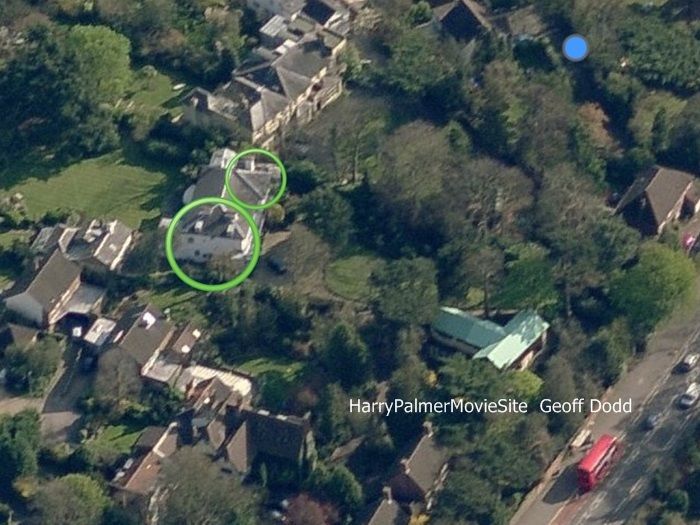 The left of this shot also shows the block of flats seen in the background as Palmer approaches the gates:
And the gates as they are now:
Thanks to Geoff Dodd!
Harry has to go to the house of Ross to pick up information about his next assignment in Berlin, the house with its garden full of weed ("Yeah, it's easy to grow").

In a magazine it was stated that the actual address was at 395 Upper Richmond Road in Putney, London, but Geoff Dodd proved this information incorrect and provided the evidence. The real location of the house/villa is Henleighs, Kingston Hill, Kingston KT2 in London and it still exists but the location isn't open to the public.


Google Earth

Latitude: 51°25'15.26"N

Longitude: 0°16'35.15"W
---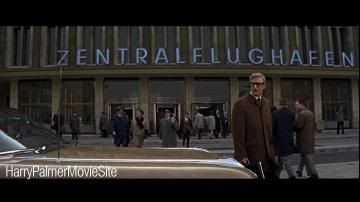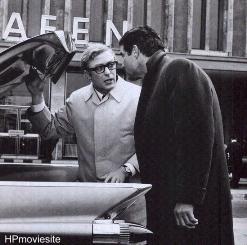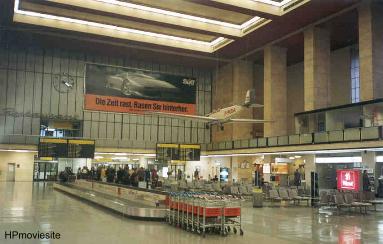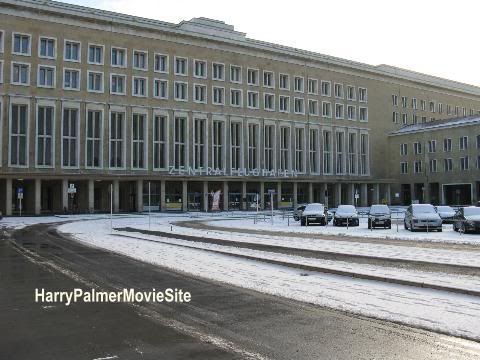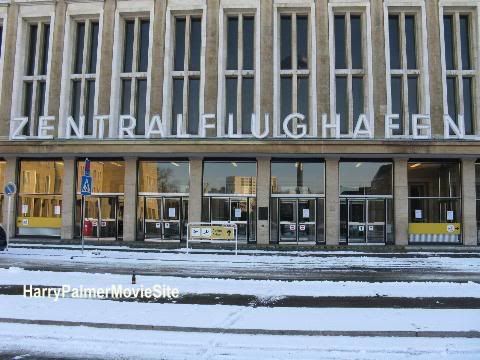 Harry arrives in Berlin on Berlin Tempelhof Airport. You can still recognize a lot of the movie on that airport. You can see the main hall where he arrives and where his baggage is checked . In the movie you can see the letters Restaurant in yellow light in the back of the hall. This restaurant sign is still there (see photo below right, under the clock). Customs were no longer working in this hall although there is still some equipment for handling the baggage. This hall is now closed due the close-down of the airport but can still be visited when you take the official tour.

Vulkan's car was on the parking lot in front of the airport (see top right photo). The Israeli secret agent in the taxi is waiting there as well. Not a lot has changed there since the movie was filmed. When Palmer and Vulkan leave the building, you can see the words "Zentral Flughafen", these words are still there as you can see. Despite numerous protests the airport was closed down on 30 October 2008. Its future is still uncertain. You can book guided tours (in German) here.

Google Earth

Latitude: 52°28'57.49"N

Longitude: 13°23'20.52"E
---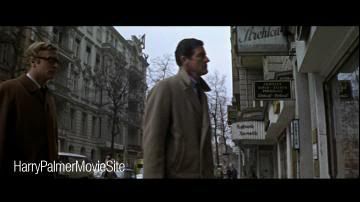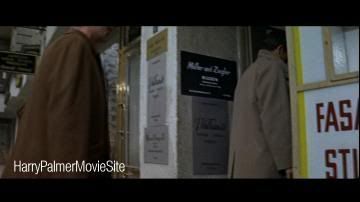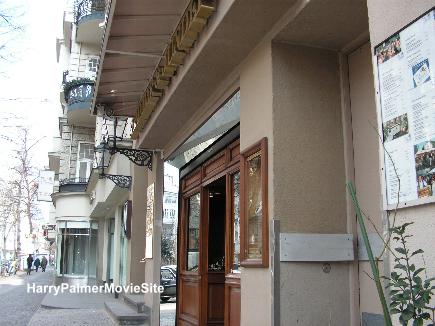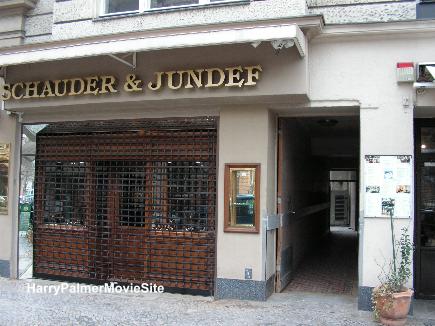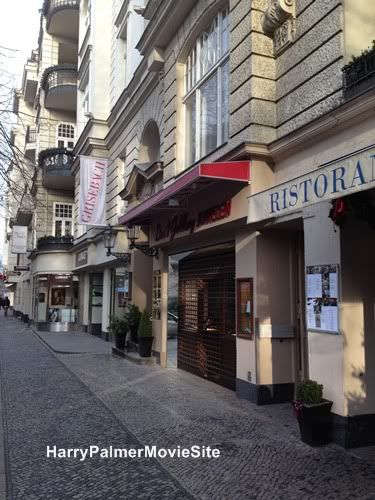 Update 2012 new

Johnny Vulkan's Clothes/lingerie shop (the cover of the British Secret Service in Berlin) where Harry is brought when he first arrives in Berlin, was located in the Fasanenstraße 73 in Berlin. In the back of the shot you can see the Kempinski Bristol Hotel on the Kurfurstendamm. The shop was located opposite the Kathe Kollwitz Museum. The entrance they used in the film is next to the Schauder & Jundef shop, now David Goldberg (updated 2012), as can be seen on the picture.



Update 2012

: The Schauder & Jundef shop is now called David Goldberg, as you can see in the 2012 photo.


Google Earth

Latitude: 52°30'7.81"N

Longitude: 13°19'38.96"E
---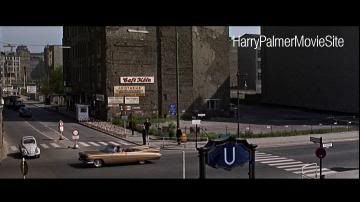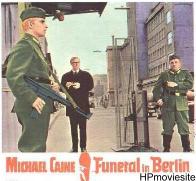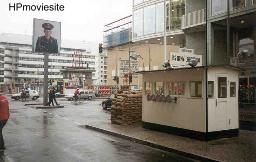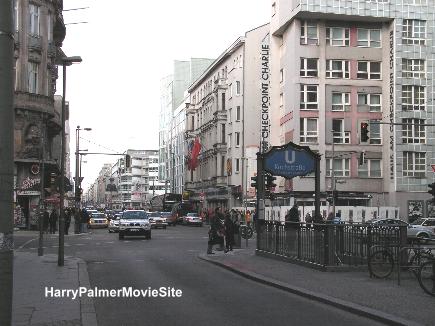 Until the fall of the Berlin wall you had to cross the border of East and West Berlin at Checkpoint Charlie in the Friedrich Strasse. Harry has to cross the border here to meet with Colonel Stok. In a distant shot you see Harry walk towards this Checkpoint (now House at Checkpoint Charlie, a memorial museum about the Wall is located there). The Russians tried to stop the crew filming by mirroring the sunlight into the cameralenses. Checkpoint Charlie has almost dissappeared although they resurrected one of the old guardhouses. You can find Checkpoint Charlie on the Friedrichstraße next to Kochstraße.

Google Earth

Latitude: 52°30'27.62"N

Longitude: 13°23'25.14"E
---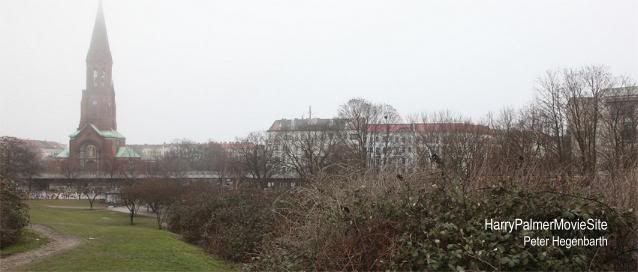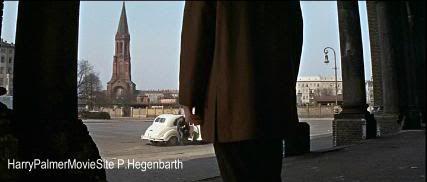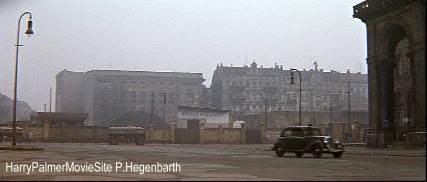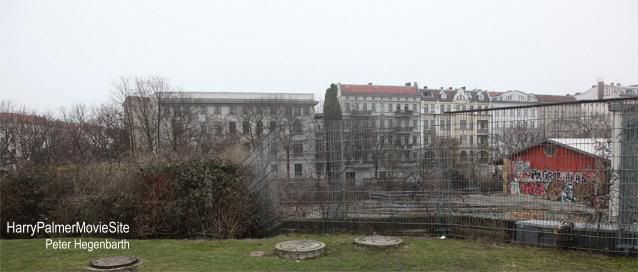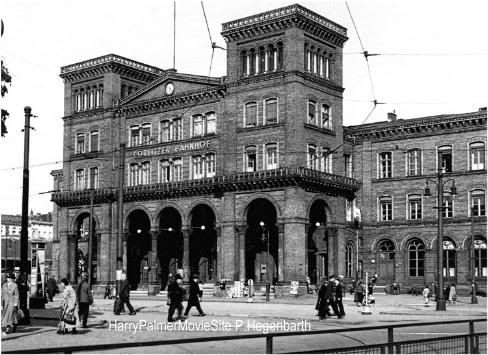 A difficult location to find in Berlin was "Marx Engels Platz 59", the meeting point for Harry and Kolonel Stok in East Berlin. Thanks to the great research of Peter Hegenbarth this location was found as well. The building where they meet isn't there anymore (an old railway station) but the church in the background is still there.

More information by Peter Hegenbarth:

"Allright, "Marx-Engels-Platz 59" really is the Spreewaldplatz. The building, the former Görlitzer Bahnhof was ruined during the war and broken down between 1961 and 1967. See also the photo above of the Görlitzer Bahnhof in 1931. You can clearly recognise the archways Harry stands in front of. The area of the station was transformed into the Görlitzer Park, which you can find on any Berlin street map.

The whole site has changed. At the camera position there is now a public bath, the so-called "Spaßbad am Spreeplatz". My pictures were taken about 50 to 60 meters too close to the church and about 6 to 8 meters too high, as an artificial hill was erected in the park.
The church is the Emmaus Kirche, www.emmaus.de, Lausitzer Platz 8, 10997 Berlin. You can also identify the buildings in the background, which have survived with minor changes."


Google Earth

Latitude: 52°29'55.18"N

Longitude: 13°25'55.64"O
---
When Harry is arrested by the East German Police he is taken for a ride... Most of this is filmed in the Kreuzberg quarter in Berlin. One of the shots along the bank of a river was filmed on the

Gröbenufer, opposite the O2 centre, close to the famous Oberbaumbrücke. You can still recognise the building in the back, it is cleaner and completely renovated.

Google Earth

Latitude: 52°30'9.03"N

Longitude: 13°26'31.25"O
---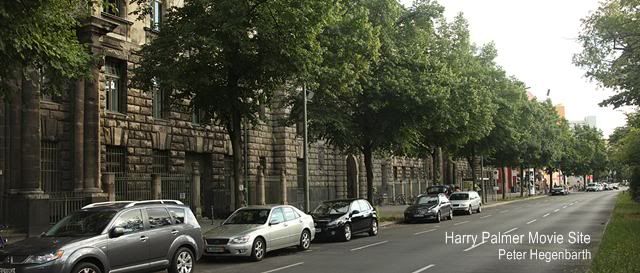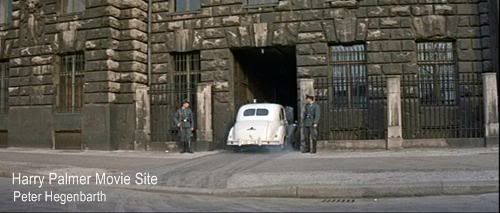 After Harry is arrested in East Berlin, he is brought to Colonel Stok's Headquarters. This building still exists and is located in the Lindenstrasse in the Kreuzberg quarter in Berlin as well.

Again it was Peter Hegenbarth who found this location. His additional information:

The former administration building of the Victoria- Versicherung can be found at the Lindenstraße 19 – 25, 10969 Berlin (Kreuzberg). Build between 1906 and 1913 by Wilhelm Walther. In the background you see the resurrection of the former Kammergericht, which became the (West) Berlin-Museum and is now part of the Jewish museum. The street ended at Mehringplatz, but had been relocated in the meantime. The house hasn't changed much, obviously except for the trees. But even the dirty patches on a lot of the stones are still the same pattern.

I think the shot of the court was done somewhere else, perhaps at the Amtsgericht Tiergarten, which doubled as the interior of the Police-Station. It looks like the inner court at Amtsgericht Charlottenburg and Amtsgericht Mitte. The floor plan of the building Friedrichstraße is more open and contains no such courts.The list of the listed buildings for Kreuzberg says:
Lindenstraße 20-25, Viktoria-Versicherung, 1906-13 (D)

-------------------------------------------------------------------------------

Update: on the spot where the car enters the building (as you can see on the picture below), you can see a big door. Behind the door is now a restaurant (the Victoria Restaurant)!


The court behind this behind this building is NOT the court where Harry is pushed out of the car and into the building. This location is yet unknown.


Google Earth

Latitude: 52°30'13.68"N

Longitude: 13°23'46.73"O
---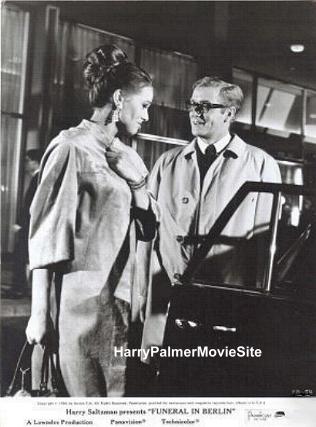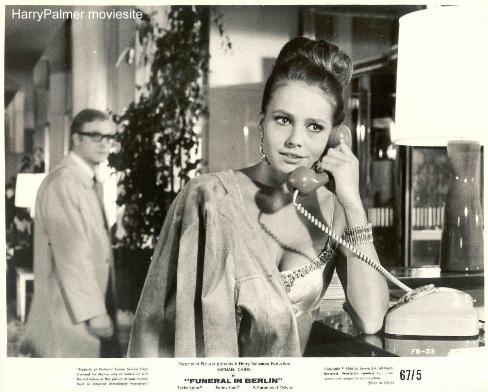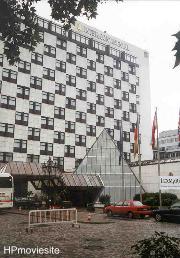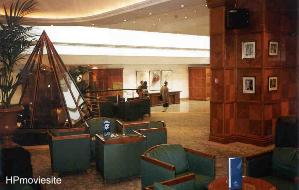 Harry Palmer meets Vulkan in the Berlin Hilton after meeting Colonel Stok. This was filmed in the (former) Berlin Hilton (on the former Westside of Berlin). It was the same place where Samantha Steel "picks up" Harry. The hotel still exists but is now called the Inter-Continental. The bar and entrance have been renovated, relocated and rebuilt so there's nothing familiar left there. It is now called the Marlene Dietrich bar. They still have some the woodwork with the painting where Harry and Vulkan discuss Kreutzmann but whether that's original... The place where Samantha picked up Harry (the reception) is now part of the bar (see picture below right). The place where they both get into a taxi is now the reception under the glass pyramid (behind the red car you can see on the photo on the left). You can find the Inter-Continental Hotel at Budapeßter Straße 2 in Berlin. Hotel Intercontinental Berlin

Google Earth

Latitude: 52°30'24.77"N

Longitude: 13°20'42.28"E
---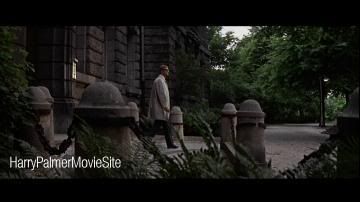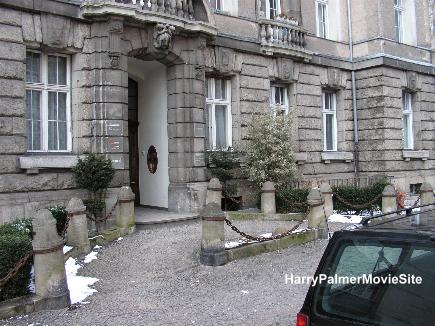 Samantha Steel's apartment was situated on the Lietzenseeufer. It's still there, you can find the building on the Lietzenseeufer 10, next to the Hotel Seehof. Only the doorbells (Harry warns his hired burglar) have changed sides...

Update: There is now a small hotel in the building, so in case you want a real Palmer night, check out this hotel: Hotel & Pension Belle Etage am Lietzensee.


Google Earth

Latitude: 52°30'26.44"N

Longitude: 13°17'20.75"E
---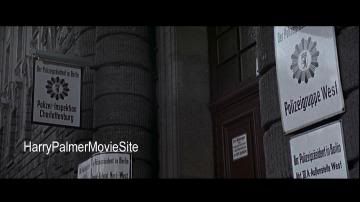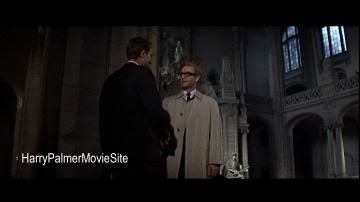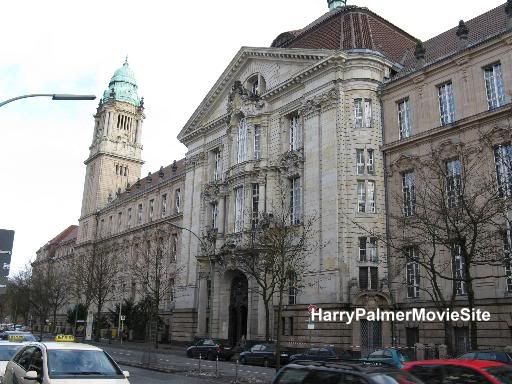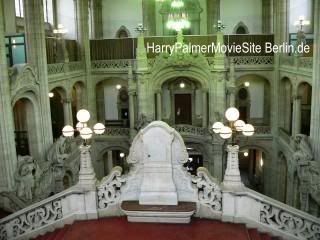 The beautiful police station where Harry Palmer meets inspector Reinhardt and asks him about Otto Ruckel and other crooks is situated in the Criminal Court of Berlin, the Amtsgericht Tiergarten,

Turmstraße 91 in Berlin. Unfortunately you can only enter the hall and have a look at the beautiful stairs but you are not allowed to make any pictures.

The exterior (top photos) is seen briefly when Harry visits the inspector for the second time, but this exterior shot is filmed somewhere else! This is filmed at a real police station, the Polizeidirektion 2 - Abschnitt 24, located at Kaiserdamm 1, Berlin. (U-Bahn Sophie-Charlotte-Platz).

These locations have been found by Peter Hegenbarth from Germany, many thanks for all your research.

Google Earth

(Amtsgericht Tiergarten interior shots)

Latitude: 52°31'34.90"N

Longitude: 13°21'13.56"O

(Polizeidirektion 2 Abschnitt 24 exterior shots)

Latitude: 52°30'39.98"N

Longitude: 13°17'43.55"O
---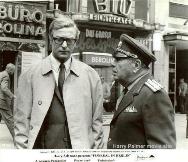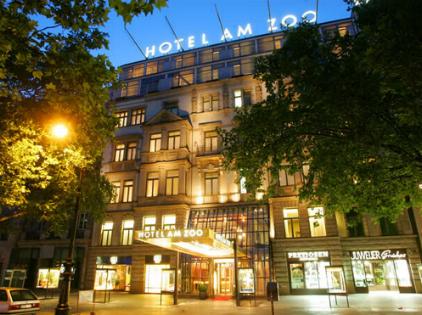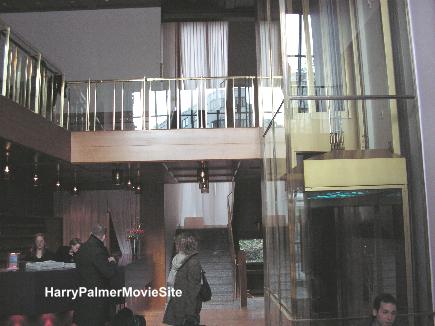 2014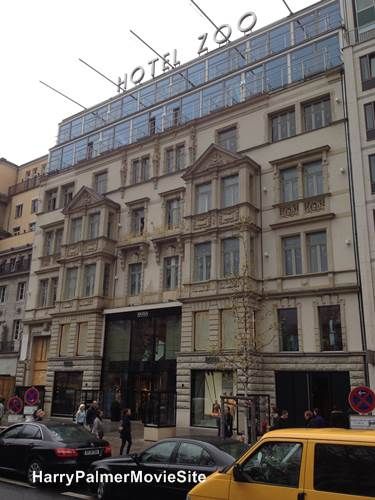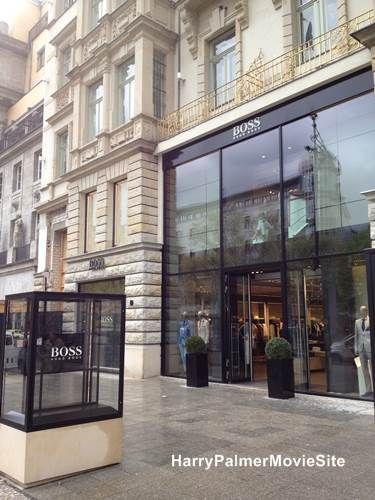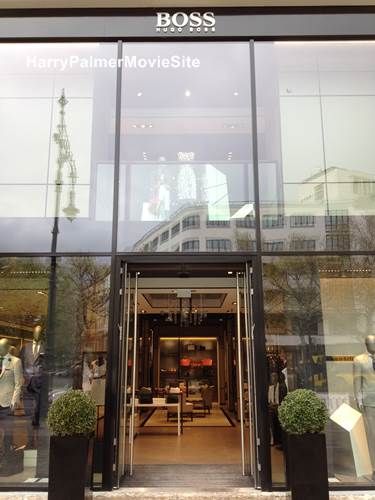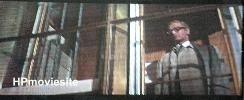 Harry Palmer stays (most of the time) in the Hotel Am Zoo in Berlin during his Berlin visits. It's the place where he "hides" the death certificate and where the Israeli Secret Service "burgles" his room. He interrogates Hallam in the bathroom there and it's where Harry receives the film of Samantha's safe by the German burglar. The hotel is still there and almost nothing has changed. The lift and reception are almost identical. Harry slept in room 607 but I think they have changed the numbering. They did change the front of the hotel a little (letters Am Zoo have moved to the roof of the hotel) but you can still stand on the spot where Colonel Stok talks to Harry ("Colonel Stok, if ever I need to defect..."-"Ask Vulkan, he knows the way!") in West Berlin . They have changed the name Hotel Am Zoo into Hotel Zoo Berlin. You can find the hotel on the Kurfürstendamm 25 in Berlin. Hotel Zoo Berlin



Update

:


Unfortunately the building was completely renovated in 2014 and the frontlobby has dissappeared in and is made into a shop (Boss). So the original lift (right) and reception have gone I'm afraid... Also the gold-coloured overhang before the entrance on the street has gone. The hotel will a new entrance on the right side and will reopen November 2014. Same counts for the original rooms which still had a lot of original details and art-deco furniture. See 2014 pictures.

Google Earth

Latitude: 52°30'13.07"N

Longitude: 13°19'44.96"E
---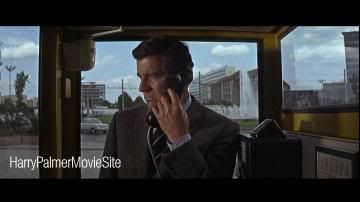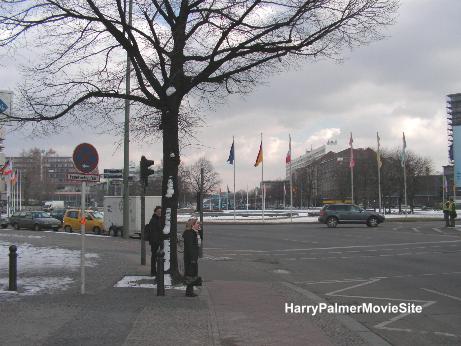 Johnny Vulkan calls Harry to say that he has made contact with Kreutzman ("he has to come to the Chez Nou nightclub"). Vulkan calls from a place near to a big roundabout called the Ernst-Reuter Platz. Behind the roundabout is the 'Strasse des 17.Juni'

Google Earth

Latitude: 52°30'45.95"N

Longitude: 13°19'13.95"E
---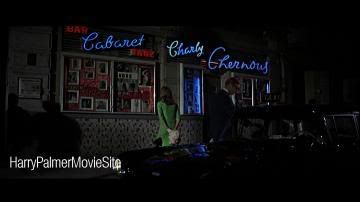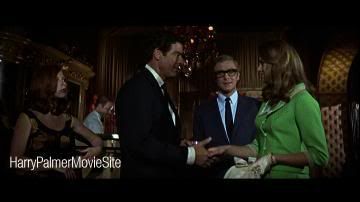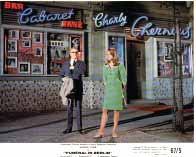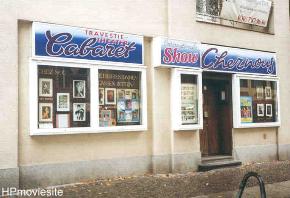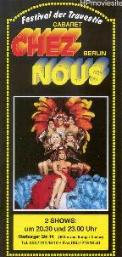 2001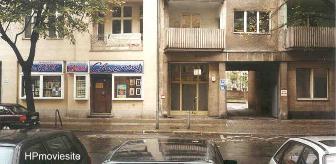 2001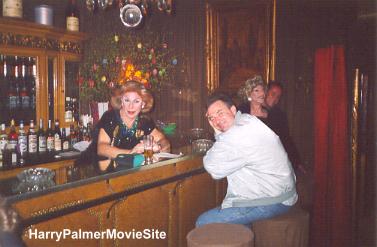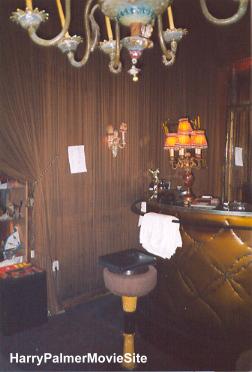 2001
2009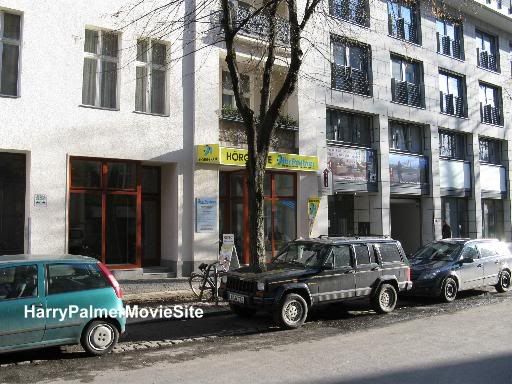 2010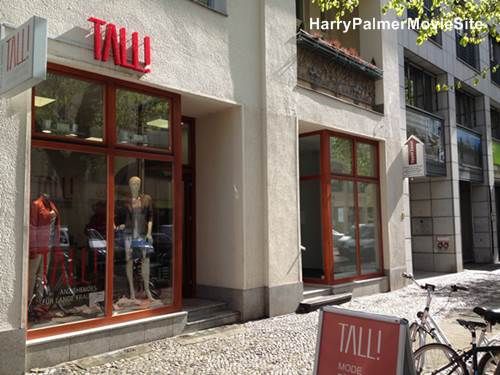 2014
The Chez Nous nightclub which is used in Funeral in Berlin (Harry meets the "man with the green carnation"), can be found at the Marburger Straße 14 in Berlin. The club has been running until 2008 and there were two shows every day.

When Harry Palmer leaves the Chez Nous after "the man with the green carnation", he dissappears in an alley next to the Chez Nous. The alley was still there until 2001 when the building next to the Chez Nous was renovated. This alley is now closed of and used as entrance to parkingspots. This block next to the Chez Nous has been renovated and can be seen on the 2009 and 2010 photo.

When it was closed in 2008 the interior was still the same as it was in 1966. Above this text on the left photo you can see the bar as it was in 2001. In a room next to the main entrance you can find another bar where "the man with the green carnation" was seated (barstool photo on the right). Harry was given the "telefon" in that room. Again: incredible, nothing except the stage in Chez Nous had changed since the sixties... Cabaret Chez Nous (site offline at the moment) It is said that the owner is looking for another location. In 2010 the club has unfortunately been renovated completely and divided and transformed into two shops.

Update: 2014 sitution added

Google Earth

Latitude: 52°30'9.05"N

Longitude: 13°20'12.18"E
---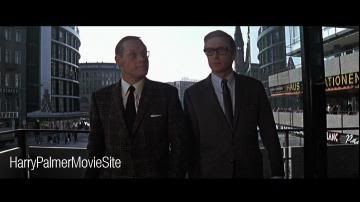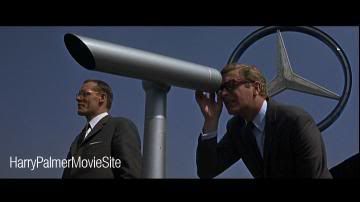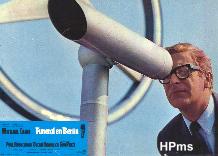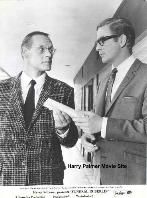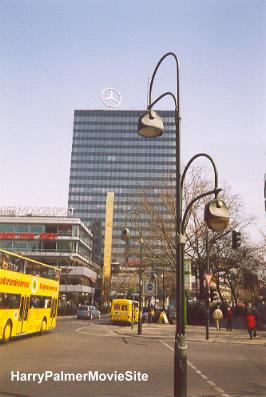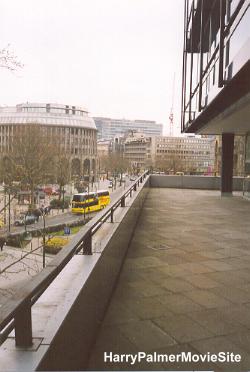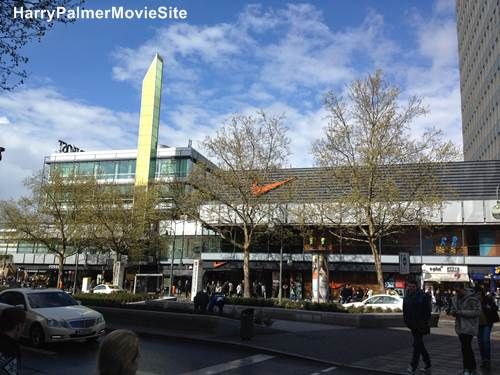 2014
Harry meets with Kreutzman to discuss all arrangements in the Europa Center in the centre of Berlin. It is still there. First (after the shot of the icerink) they meet on the outside of the now closed of first floor (changed into shops) of the shoppingcentre, next to the Tauentzien Straße. The floor they are on is now closed and turned into a coffeeshop with big 'Esprit' sticker on it. You can see a part of that location on the photo on the right. Their second meeting is on the roof of the officebuilding (the building with the big Mercedes sign on top), which is now office of the Commerzbank. Unfortunately the rooftop of that building is closed nowadays, but you can reach the first mentioned location I mentioned quite easily. The Europa Center can be found on the Tauentzien Straße, next to the famous Kaiser Wilhelm Gedachtnis Kirche.



Update

: 2014 situation added now a Nike shop.

Google Earth

Latitude: 52°30'15.94"N

Longitude: 13°20'16.84"E
---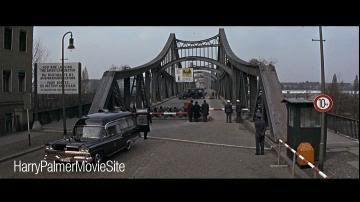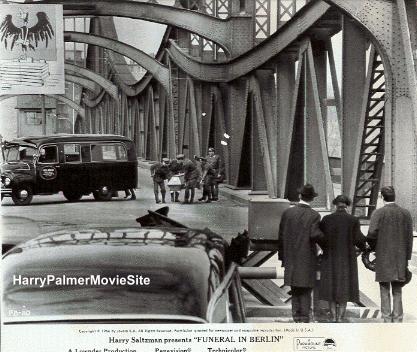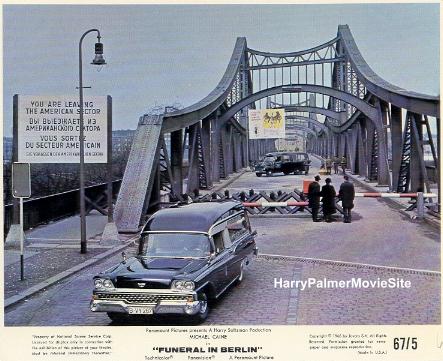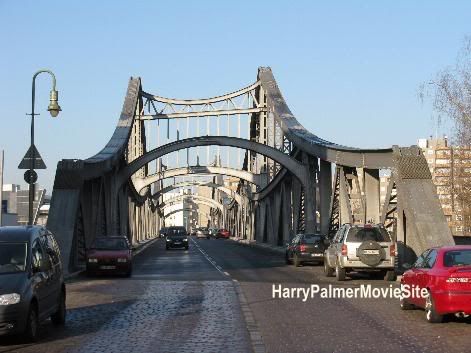 The bridge where the coffin crosses the border between East and West Berlin in Funeral in Berlin is the 'Swinemünder Brücke' in Berlin.

The 'Swinemünder Brücke' is located in Berlin-Wedding. It can be found easily from the S-trainstation 'Gesundbrunnen'. The bridge makes a 230m long connection between the Swinemünder Strasse and the Bellermannstrasse. It was constructed in 1905 and because its incredible high costs many Berliners know the bridge as the "Millionenbrücke". In the fifties the Swinemünder Brücke was refurbished (and this century again) . The bridge is protected under a monumentlaw so it won't dissappear in the near future. It was hard to find the bridge because you expect it to be over water... Many thanks to Lars Förster, Germany.

Google Earth

Latitude: 52°32'54.97"N

Longitude: 13°23'35.22"E
---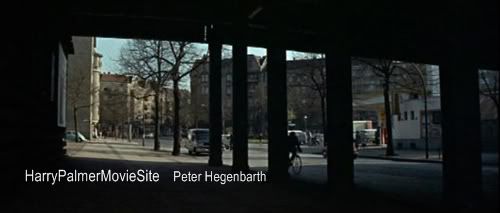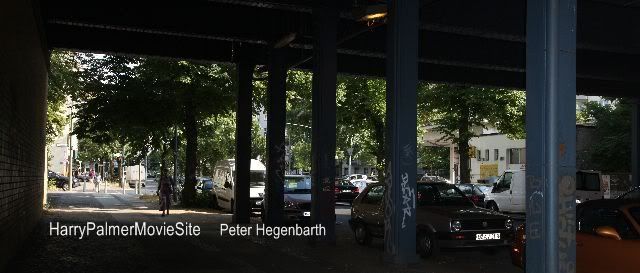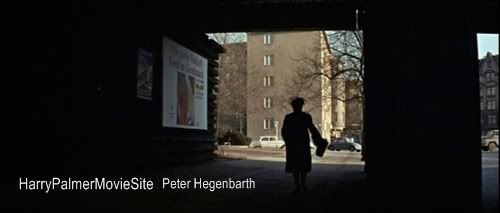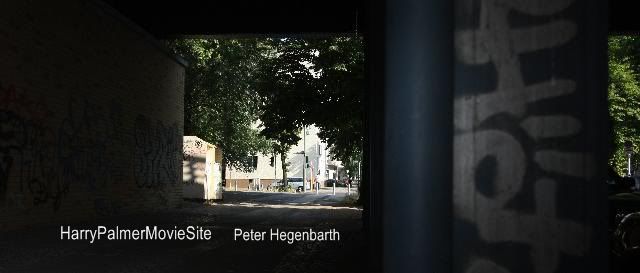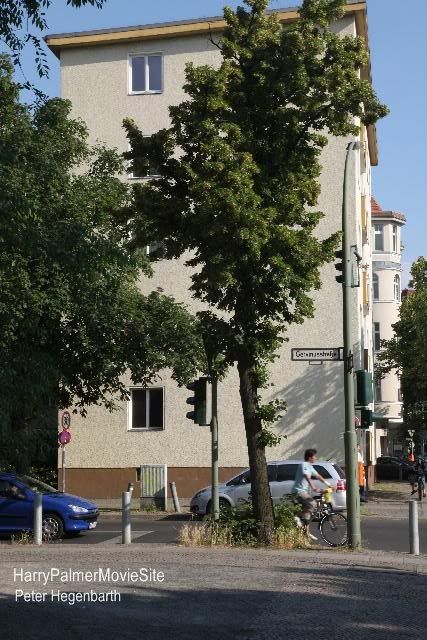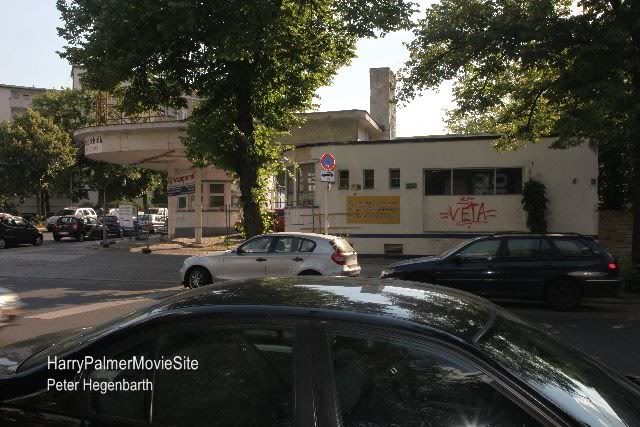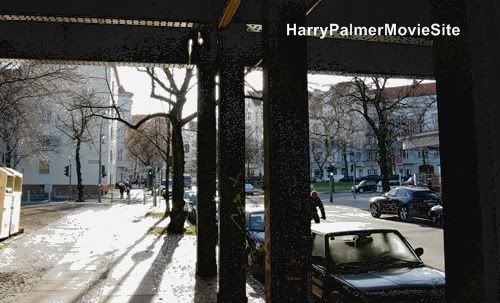 2012

The location where the hired old lady leaves the car and gets her money for 'acting' at the exchange on the bridge is located at the Holtzendorffstraße in Berlin.

------------------------------------------------------------


Again it was Peter Hegenbarth who found this Berlin location: "The Street on which the hearse drives is the Holtzendorffstraße. The camera looks under the bridge to the south to Holtzendorffplatz and Joachim-Friedrich-Straße. In front of the petrol-station is the Heilbronnerstraße, in front of the new building is the Gerviniusstraße. First: a typical S-Bahn or U-Bahn "overground"-bridge. Must be West-Berlin, due to political restrictions in early 1966. No leaves on the trees, no leaves on the ground. So it must be late march to late april.In the last shot in the background behind the widow we see a "Neubau" (building build after the war). In the first shot we see a petrol-station in the background, to the right-hand side.

The petrol-station? These things happened to get broken down in the past. But the new building still had to be present. Again – where is an old petrol-station opposite such a new house? And it must be more inner-city, as the more rural areas below S- and U-Bahn-bridges do look different."

Thanks again to Peter Hegenbarth.


------------------------------------------------------------

The bridge has been renovated but the fundaments and big poles are still the same as in the Sixties!




Google Earth

Latitude: 52°30'11.19"N

Longitude: 13°17'44.48"O
---